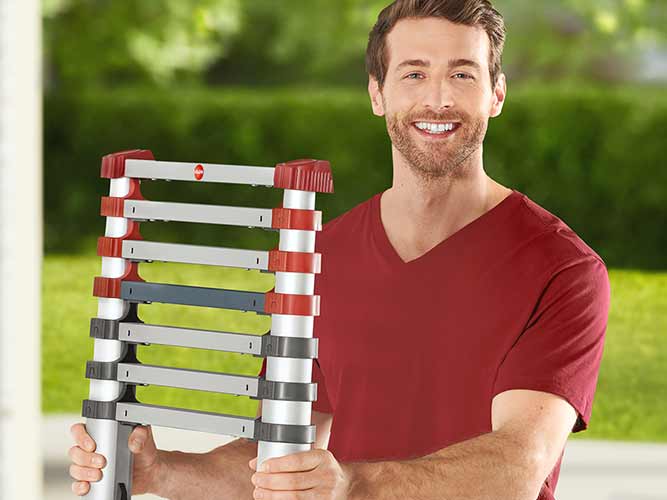 Aluminium telescopic ladder
T80 FlexLine
The aluminium telescopic ladder with one-hand unlocking system.
Telescopic ladders
Telescoping rung-by-rung to custom lengths is one of the biggest advantages of the multi-position aluminum telescopic ladders, so it is no coincidence that they are so popular with home users and professionals with smaller vehicles. The portable telescoping ladder is a special, lightweight and portable extension ladder, as the height of the ladder can be adjusted to your needs by removing the individual rungs. These ladders are skillfully constructed rung by rung, down to the smallest detail, and they adhere to the most stringent regulations. When work needs to be done at a height, our ladders are the preferred option. In terms of variety, stability, climbing safety, and well-thought-out usefulness, HAILO's lightweight telescoping ladders are unparalleled.
Use cases for HAILO telescopic ladders
HAILO's portable, multi-purpose, telescopic ladders are a great help around the house. They are easy to store and transport, and despite their lightweight telescopic design, they offer a heavy duty capacity, enabling these extension ladders to be used both indoors and outdoors. However, thanks to their well-built and patented structure, you do not have to compromise on safety features or duty rating in favor of great adjustability.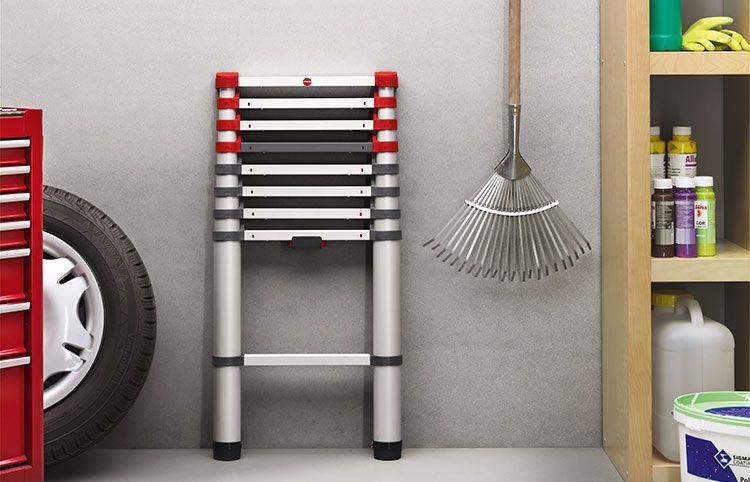 Indoor home use
The HAILO T80 FlexLine telescopic ladder with 9 steps and a maximum height of 8.36 feet has won the hearts of hobbyists and DIY enthusiasts. The aluminum telescoping ladder is expandable in slip-resistant steps, so it can be used safely for work in both smaller rooms and higher ceilinged loft spaces. Thanks to the industrial-grade aluminum structure, the ladder's max capacity is 330 lbs - enough for any maintenance person to climb and carry tools to work on almost any height.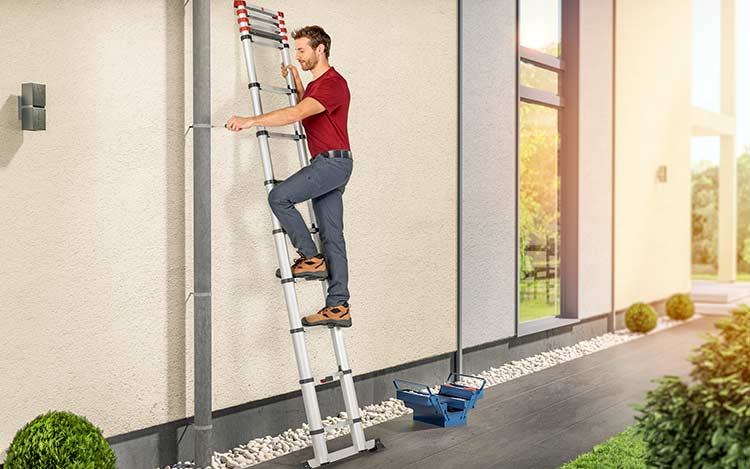 Telescoping ladder for outdoor work
A common challenge when working outdoors is inadequate ladder height: while smaller products might not be tall enough, larger extension ladders are difficult to transport. You can easily lift HAILO's telescopic ladder, as the aluminum structure weighs only 17 lbs. The high-quality aluminum alloy supports as much weight capacity as traditional ladders (manufactured to EN131 standards), however, it is extendable with almost one touch. Thanks to its anti-slip rubber feet, the T80 FlexLine compact telescoping ladder can be used safely even in harsh outdoor conditions.
The special features of our telescoping ladders
Our telescoping ladders' operating heights may be completely customized to meet needs thanks to their ingenious design. If you like, the ladder rises one step at a time, so it can even replace a step stool. These corrosion-resistant, pinch-free ladder steps are simple to push together, lock, and carry around the house or to the transporting vehicle. Check out the patented and unique features of the HAILO ANSI-certified aluminum telescoping ladders and extension ladders!
Telescopic function
Thanks to their collapsible telescopic design, the working heights of our T80 FlexLine aluminum ladders can be adjusted entirely according to the particular need. The multi-use telescoping ladders can be pushed together to save space and for ease of transport.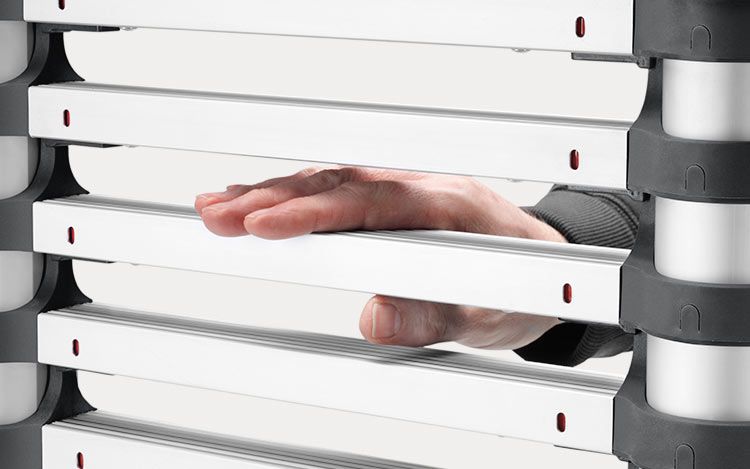 Patented anti-pinch protection
HAILO's retractable aluminum ladders are all equipped with special no-pinch technology to ensure that they do not cause any accidental injury while the ladder is telescoping.
Rubberised wall impact protector
The feet of the aluminum telescoping ladder grip securely to any surface thanks to their special coating, while the wall-mounted ends are rubberized to prevent possible injuries to the wall when climbing and working on the angled ladder. In addition to protecting the workers and the job site, the ladder's large plastic feet ensure a non-slip, firm stand, and stability.