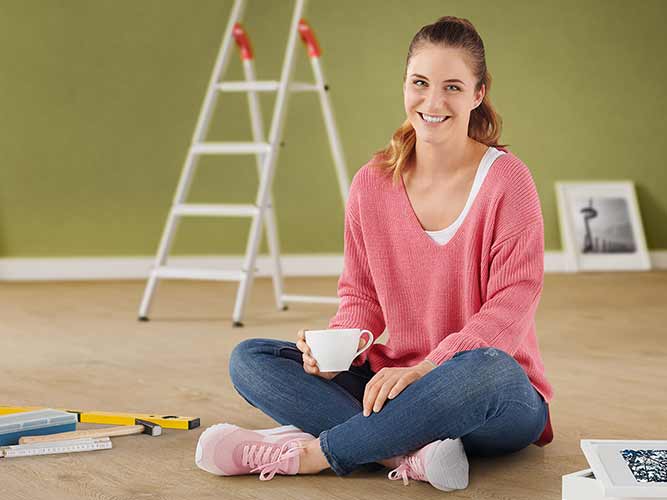 Aluminium stepladder
L60 StandardLine
Time-saving aluminium safety household ladder with hinge protection and multifunction tray.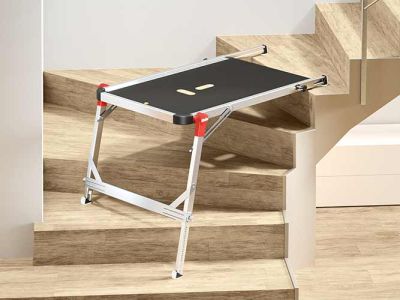 Stairs platform
TP1
The safe and innovative solution for renovating and decorating in stairwells.
Stepladders
We offer our customers stepladders made of high-grade aluminum in a wide range of product series and price options. All HAILO solutions are available as folding ladders with 4-8 standard or large steps (depth: 3-5 inches). HAILO's wide pedal and non-slip stepladders offer safety and functionality empowering you to even work on hard-to-reach areas. The ladders go above and beyond the standard requirements in terms of materials, weight capacity, ladder options, and overall workmanship. With unique and practical details, they make your work easier at any ladder height.
Use cases for stepladders
Discover some of the use cases and possible combinations of our step ladders!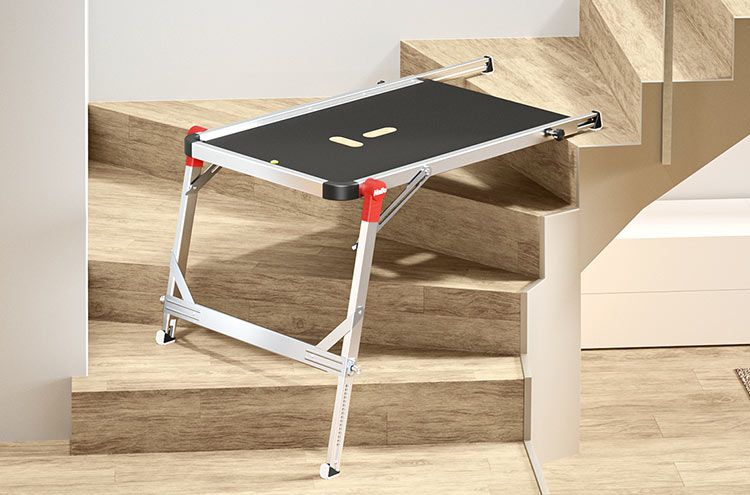 HAILO TP1 stairs platform for home redecorations
Designed for step stools and platform stepladders with up to 4 steps, this stairs platform is ideal for safe, comfortable jobs on the stairwell. Its robust design with a sturdy aluminum frame system allows the TP1 to turn every stepladder and step stool into an easily accessed platform for renovating and decorating jobs. The high load capacity-enabling (up to 330 lbs) and spacious tool tray helps you to work with professional tools. The ladder may be used securely on any floor or even outside thanks to the replaceable foot elements of the EasyClix system.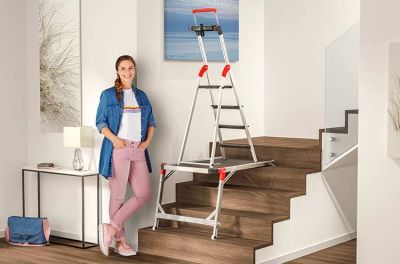 HAILO ladders offer a similar level of safety to scaffolding
Extra deep, slip-resistant steps, a professional-level duty rating, and a safety rail together maximize the usability of this tool. Its non-skid surfaces, both the anti-slip aluminum stepladder with soft-grip foot set pieces and the tool tray provides a great price-value ratio, popular by both DIY hobbyists and full-time experts. The rail can be extended and set at the optimum height for holding or leaning on while working. The deep steps and sturdy construction of the ladders allow safe ascent and descent. They improve the standing comfort, with which you can now work more comfortably and longer on the stepladder.
Features of our stepladders
Our aluminum and steel stepladder products offer a fitting lbs capacity, a wide variety of accessories, safe tread and foot elements. Check out what our ladders offer to support your work.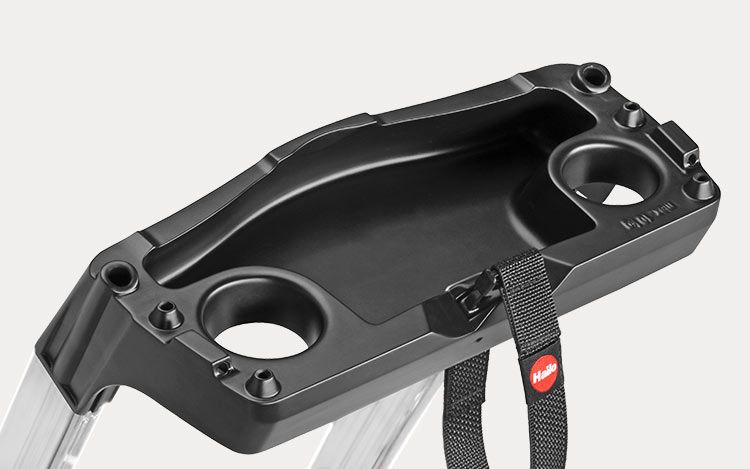 Multipurpose storage tray
Every aluminum stepladder of HAILO's L100 TopLine and L60 StandardLine product types is fitted with the multipurpose tray with non-slip layering as standard.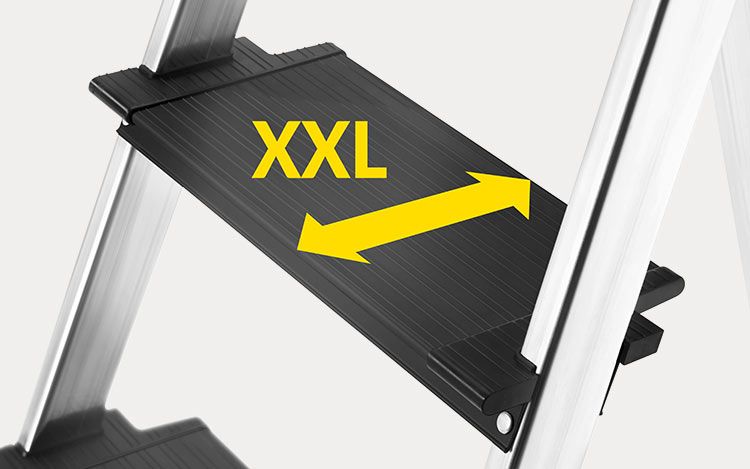 XXL steps and wide pedals
Generally, the ladder steps have a depth of 3 inches, although this has been enlarged to 5 inches in the XXL variant. The greater tread surface offers more comfort when standing while also enhancing safety. Like all other models, these steps are also characterized by non-slip ribbing and rounded step edges. The XXL steps are offered for aluminum ladders of the HAILO L100 TopLine. Similar to steps, wide anti-slip pedals are also offered with HAILO's aluminum step ladder products.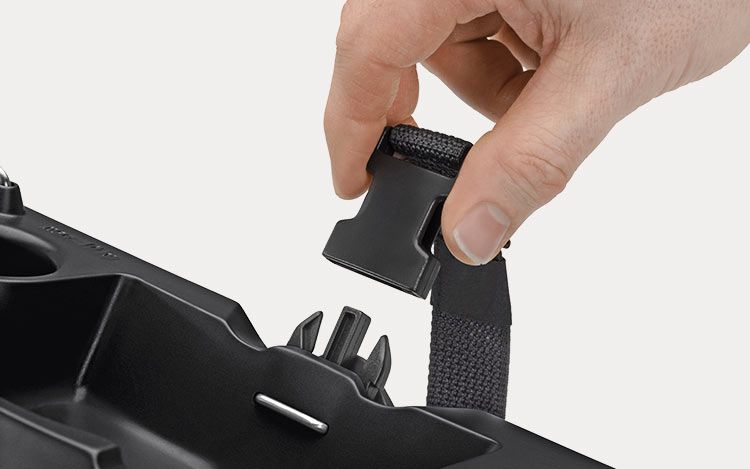 Bucket strap
To allow not only a bucket but also a handheld vacuum cleaner, a cable drum, or any necessary item to be attached securely to the ladder, the HAILO L100 TopLine model is fitted with a bucket strap with a click-in quick lock as standard.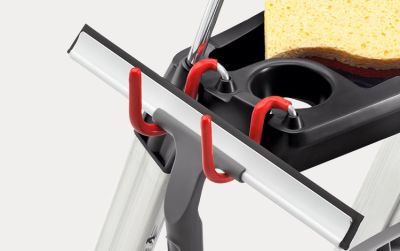 Universal hook/clip
Universal hooks are used for hanging hedge shears, cleaning materials, or paint rollers. Ladder clips are provided for attaching brooms or fruit pickers. All aluminum step ladders from the HAILO L100 product series are fitted with universal hooks and clips as standard.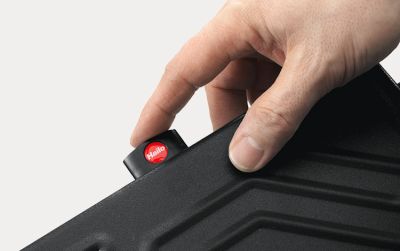 Platform lock
To prevent the ladder from collapsing accidentally when you climb on it or carry it to another location, our L100 TopLine product series comes with a lock for the platform.