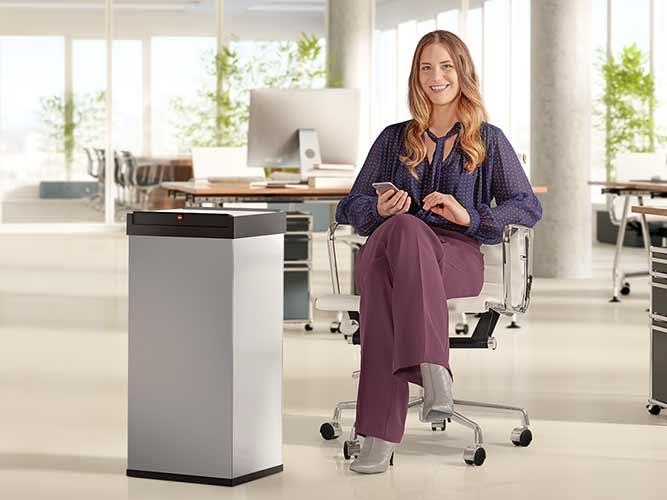 Spacious waste box
Big-Box Swing XL
Capacious waste box with automatically closing "swing" lid.
Waste bins
Garbage management is an inevitable part of home and office life - why not do it in style? We've turned waste bins into high-end home accessories by creating a wide range of chic, resilient waste bins to suit the kitchen, home, office, and garden. We've designed each bin with convenience, hygiene, and durability in mind.
Which HAILO bin for which purpose?
We've created bins designed to be attractive, hygienic, and easy to use. Whether you're looking for a built-in bin or a free-standing trash can for your home or office, we have the perfect waste management solution.
Free-standing waste bins
Every day, we produce waste, whether that's in the kitchen, bathroom, or office. HAILO has individual solutions for each of these areas with its broad product portfolio of free-standing bins. We offer innovative and intelligent waste bins and accessories that are not only practical but attractively designed. Our high-quality stainless steel and sheet steel waste bins designs quickly become an eye-catcher in any room, while the pedals and sensors enable easy and swift lid usage. These waste containers don't have to be hidden in the corner of the kitchen, in a cabinet, or put out on the curbside!
Built-in waste bins
Anyone who likes to cook, knows that the kitchen is where most of the waste is produced in a household. For this reason, waste bins are an indispensable part of the kitchen. With our single or double recycling bins, we offer you intelligent and space-saving hardware in various gallon volumes to separate and dispose of waste in your home sensibly and according to type. Whether made of stainless steel, sheet steel, or high-quality plastic (available in white, silver, and other powder-coated colors), our built-in waste bins are designed to suit your needs. Our models differ both in their functionality and in their gallon capacity.
Kitchen bins
A kitchen generates large amounts of garbage: food leftovers like peeled fruits and vegetables, packaging from products used, and surplus kitchen scraps. Depending on how you want to dispose of it, you'll need to find a place for it - and a versatile kitchen bin will help you do just that! Do you prefer a bin with a sensor or a pedal for touchless discretion? Do you plan to use it as a recycling bin? Should a waste separation system already be integrated? Do you need a simple, small countertop compartment, or a larger, stackable structure? Whatever type of solution you choose, HAILO has the right product for your kitchen.
Bathroom bins
Overflowing garbage bins aren't limited to the kitchen: your bathroom can suffer from it too. However, bathrooms usually generate residual waste that doesn't require a garbage separation system, which is why a cosmetic bin works well. Most of the time, it's cosmetic tissues, cotton swabs, and other hygiene items that end up in the wastebasket. Our practical pedal bins made of stainless steel or corrosion-resistant coated sheet steel, with a plastic inner storage basket that's not visible from the outside, are not only particularly suitable and practical for this purpose, but they also look attractive thanks to their stylish colors, helping you create order in all of your rooms.
Recycling bins
Garbage accumulates in residential areas, but it is also produced outside of kitchens and homes such as in workshops, production halls, logistics centers, or indoor spaces, where it's necessary to provide recycle bins with a suitable waste separation system. Hence, recycling is equally important at home and in businesses or public facilities that might have already created a responsible waste management culture. HAILO offers high-quality, large-capacity recyclable waste collectors and bins that are suitable for usage at home, as company equipment.
Features of our bins
We have designed our waste bins with a specific purpose in mind, with features that vary from bin to bin. What remains constant is the quality. Each HAILO trash can is robust, aesthetically pleasing, and designed to fit perfectly into your home and lifestyle.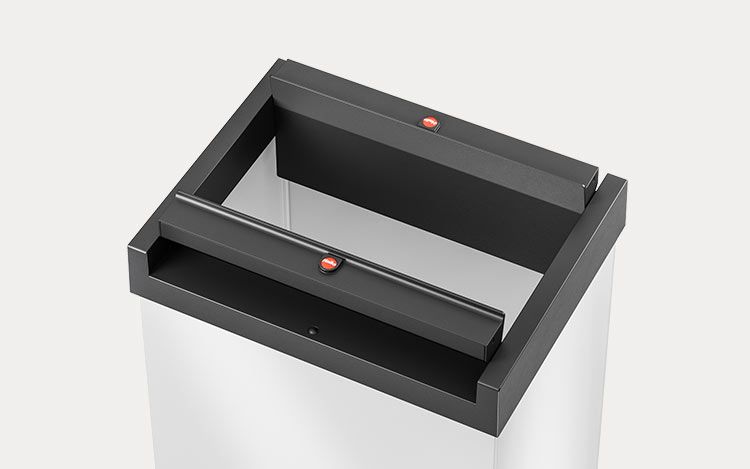 Convenient lids
While each bin has a different lid, all are soft-close to reduce unpleasant noise and unnecessary wear-and-tear. For hygiene purposes, we offer bins with foot pedals and sensor-operated lids so that you can avoid touching the bin unnecessarily.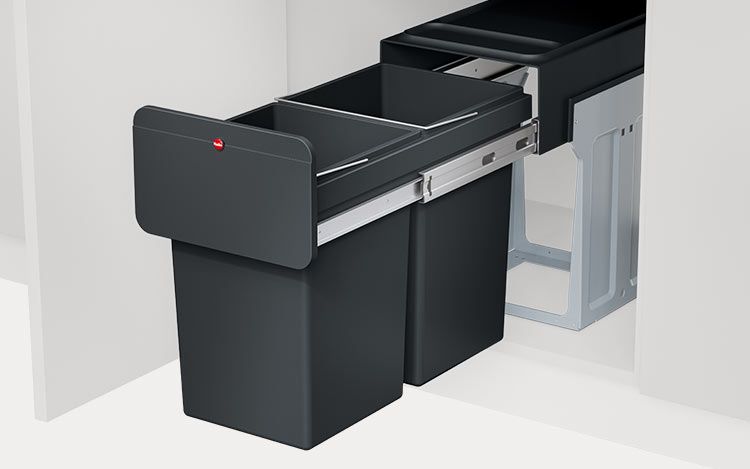 Waste separation
Reducing your carbon footprint has never been easier. Our waste-separation bins ensure that your recyclables are never contaminated with food waste and non-recyclable materials. Keeping your waste separate makes it much easier to recycle.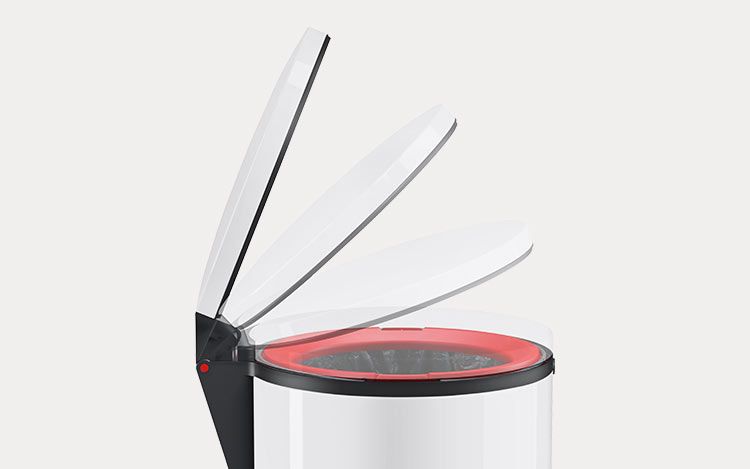 Soft-close
Soft close is a cushioned lid closing mechanism that ensures the lid of the waste bin makes little noise when being closed. Many of our waste bins are fitted with the soft-close mechanism.
Quality, convenient, stylish bins
When you choose a HAILO bin, you can rest assured that your bin is durable, convenient, and attractive.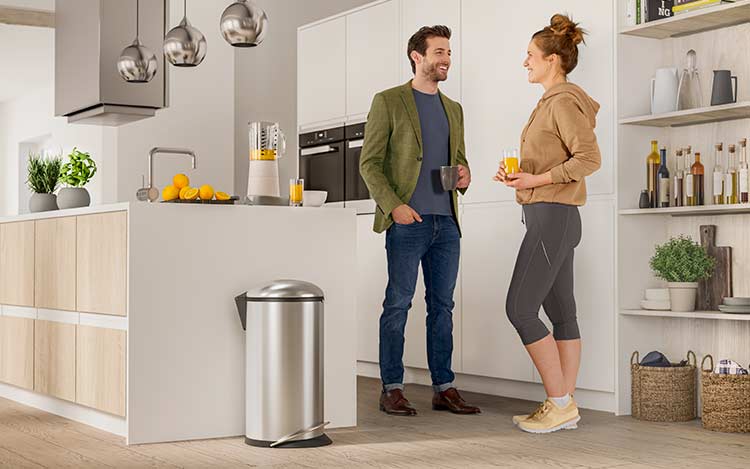 High quality materials
We only use the most suitable materials to create our bins. Our waste bins consist of plastic and corrosion-resistant coated sheet steel or stainless steel to ensure that your trash cans are durable, resilient, and long-lasting.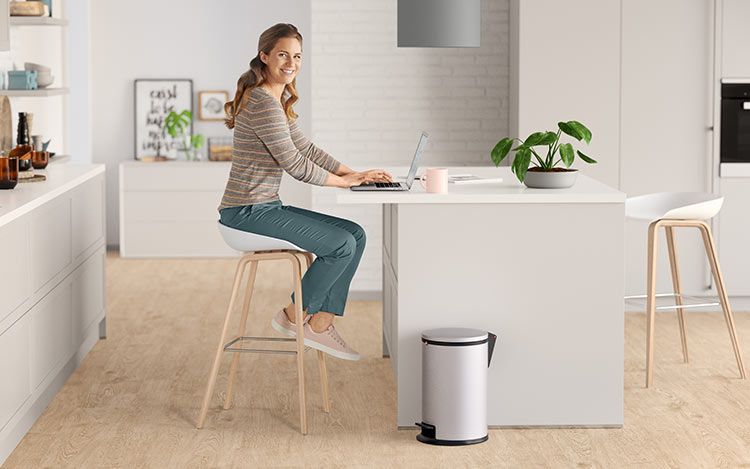 Convenient design
Innovation is at the heart of the HAILO philosophy. We constantly think up new ways to make waste management more manageable, which is how we eventually created our hands-free and soft-close bins.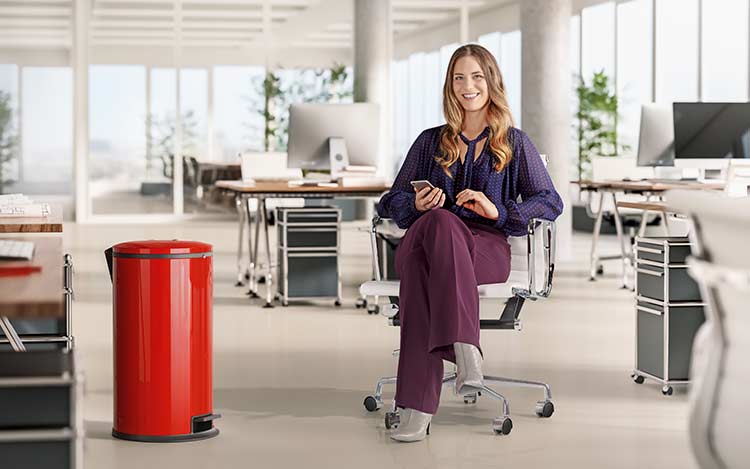 Stylish finishes
Our bins come in a range of colors and finishes. Their sleek, simple design means that they will complement the decor of your kitchen, bathroom, and office. Ugly bins are a thing of the past, thanks to our stylish designs!