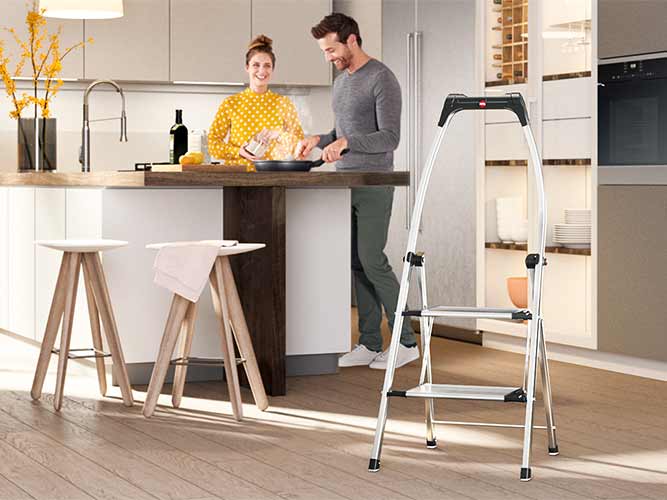 Aluminium folding step
K100 TopLine
The aluminium comfort folding step with Soft-Grip base for optimal stability on different floors.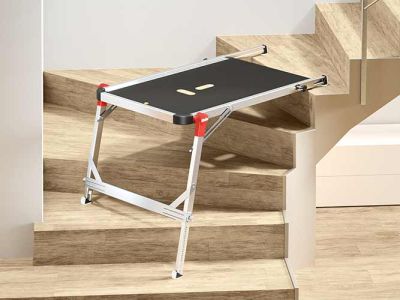 Stairs platform
TP1
The safe and innovative solution for renovating and decorating in stairwells.
Ladders
Buying a ladder is always a matter of trust. After all, anyone wanting to climb high in their home or garden (or during professional work) needs to be able to rely on quality, stability, durability, and handling. The HAILO name has stood for safety and superior workmanship since 1947. The inventor of the first aluminum household ladder offers an innovative product range, including multi-purpose aluminum ladders, A-frame ladders, heavy-duty metal ladders, non-slip platform step ladders, extension ladders, and ladder safety accessories, that deliver the right solution for every requirement and every job.
Use cases for HAILO ladders
All our ladders have professional duty ratings thanks to their resilient materials, a wide variety of ladder shapes, the number of steps, and the built-in safety features (like the folding safety mechanism) that puts the user in the focus. To find the right ladder, we share the most common use cases for our ladders for both professional home improvement and traditional DIY usage.
The HAILO step ladder – going up? But of course!
Whether fitting curtain rods or ceiling lights, painting or cleaning windows, a firm tread and maximized stability should have a top priority. The space-saving HAILO step ladders (from stools to L60 and L100 high load capacity step ladders) with three to eight steps ensure safety and comfort, while enabling you to reach above the traditional heights. Non-slip, extra-wide steps, non-conductive materials, and extendable safety rails provide additional protection, while thoughtful details such as intelligent storage trays, bucket straps, and universal hooks for attaching tools or materials make the compact aluminum folding ladders even more convenient to use.
HAILO folding steps – they may be little, but they're certainly useful
Whether reaching into the top shelf in the kitchen or replacing lightbulbs, two or three steps are all you need for everyday tasks around the house. Depending on the number of steps and your height needed, the HAILO aluminum folding steps allow you to extend your reach and are designed for ease of use. Ladder feet with soft-grip soles protect the floor and ensure that the practical anti-slip leveler stands securely, while XXL large steps deliver additional comfort. The HAILO MK60 step stool, for instance, extends your working height to 96.1 inches while providing extra stability and saving your floor from scratches.

The HAILO rung ladder – professional diversity
Whether trimming branches or carrying out renovations, the large HAILO rung ladders and telescopic ladders are used when working at heights of up to 13 feet are needed. Depending on the model, they may be leaning ladders or free-standing ladders, and they come with many clever additional functions that make the work in the garden and outdoor areas easier. In the case of the HAILO T80 FlexLine, for instance, the height of the ladder can be adjusted using a telescopic function. The stair adjustment mechanism even allows the ladders to be used on staircases. Sturdy length, slip-resistant finishes, cross-profiled rungs, and a quality that exceeds standards guarantee stability at all times when climbing.
Special features of our ladders
Comfortable folding mechanisms, steps providing stability, and convenient safety rails ensure that our ladders can be used safely, while the space-saving design, low weight, and plenty of clever details make them tangibly easier to use in the home and garden. The comprehensive HAILO product range of top-end aluminum step ladders and rung ladders contains universal and special solutions for every requirement.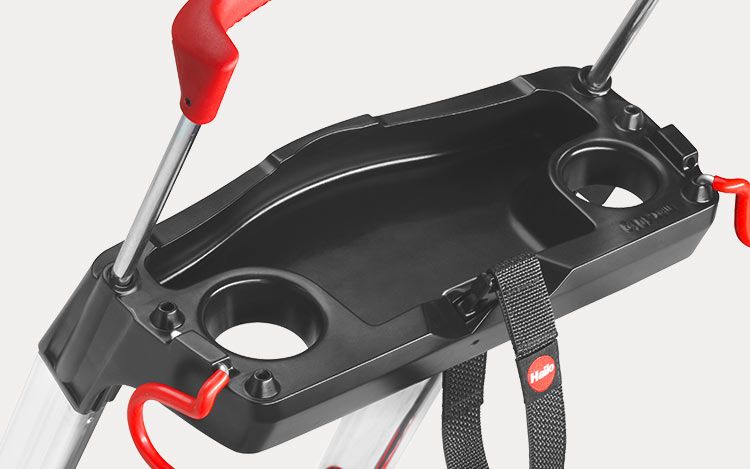 HAILO tool trays
Some of the HAILO ladders have built-in tool trays that offer enough space to store your tools, load in your accessories, and enable you to have two free hands. The one-hand work era is over!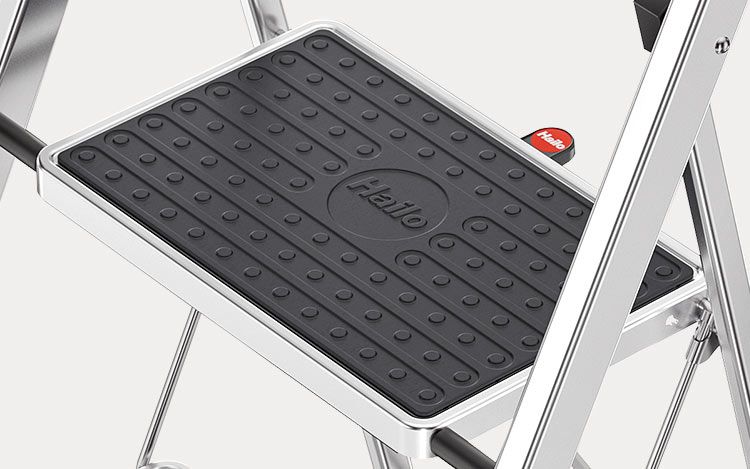 Non-skid mats on ladder steps, platforms, and load trays
The HAILO StandardLine K60 is one of the company's ladders that comes with non-skid mats on both steps of the lightweight portable ladder. HAILO takes personal security very seriously, even when you are only two steps high.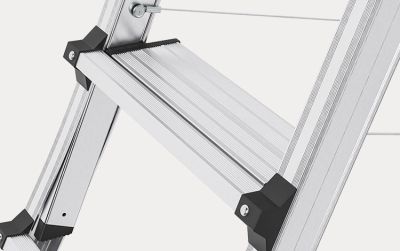 Step/rung combination ladders by HAILO
HAILO's Topline ladders are constructed with a multi-position and multi-purpose usage in mind. Thanks to its adjustable telescopic steps and support legs, the HAILO L100 ladder can be utilized on staircases and uneven ground. With this multi-position ladder or the TP1 platform, you don't need to have planks with you anymore to be safe.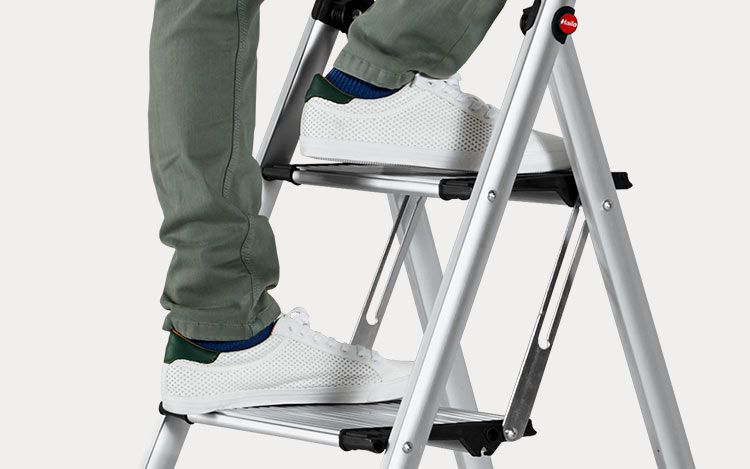 Safety on the ladders
With a strong duty rating, all our ladders keep the user's safety in focus. Side rails, EasyClix feet, secure telescoping legs, and high-durability materials make the step ladders, step stools, and other jobsite equipment safe at any height.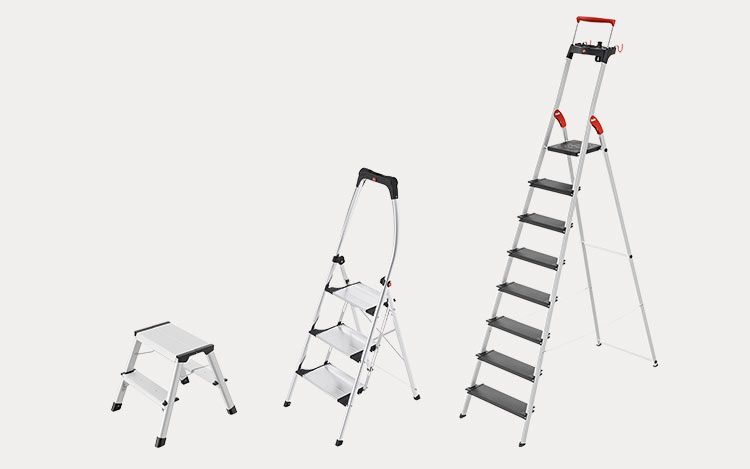 Wide variety of ladders
In our ladder portfolio, we include all the sizes and features you need for every purpose you are looking for in the right ladder - from base platforms to step stools, and extension ladders.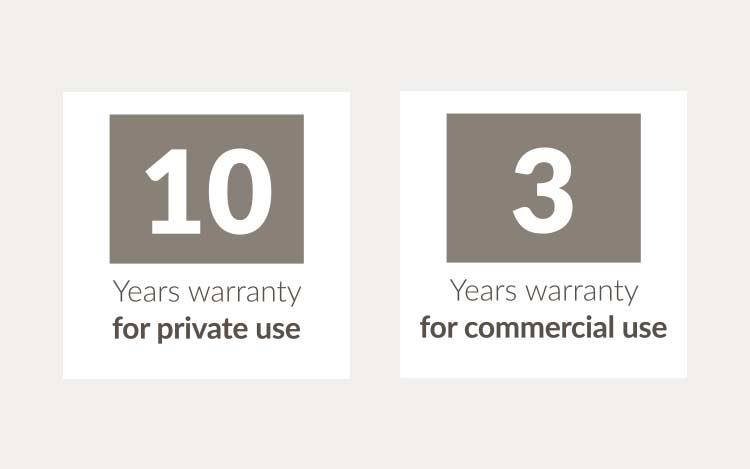 Ladder warranty
For private users, we offer a warranty of at least 2 years (however, most ladders come with 10 years and ladders of the L100 TopLine series come with 25 years warranty). Industrial users (for example, professional roofing providers) are given a three-year warranty for almost all of our ladder product series.