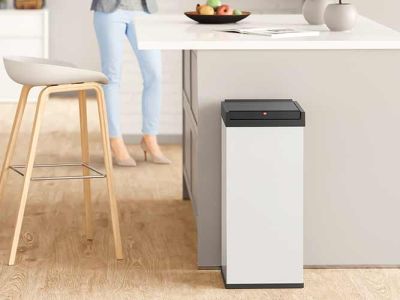 Spacious waste box
Big-Box Swing XL
Capacious waste box with automatically closing "swing" lid.
Recycling bins
Garbage accumulates in residential areas, but it is also produced outside of kitchens and homes such as in workshops, production halls, logistics centers, or indoor spaces, where it's necessary to provide recycle bins with a suitable waste separation system. Hence, recycling is equally important at home and in businesses or public facilities that might have already created a responsible waste management culture. HAILO offers high-quality, large-capacity recyclable waste collectors and bins that are suitable for usage at home, as company equipment.
Use cases for recycling bins
If you plan to recycle everyday garbage, like aluminum foils, bottles, used paper towels, paper bags, cardboard boxes, DIY materials, and other recyclable items, HAILO's solid waste management systems and stainless steel bins are the perfect solutions. These are the typical use cases for indoor and outdoor storage and recycling.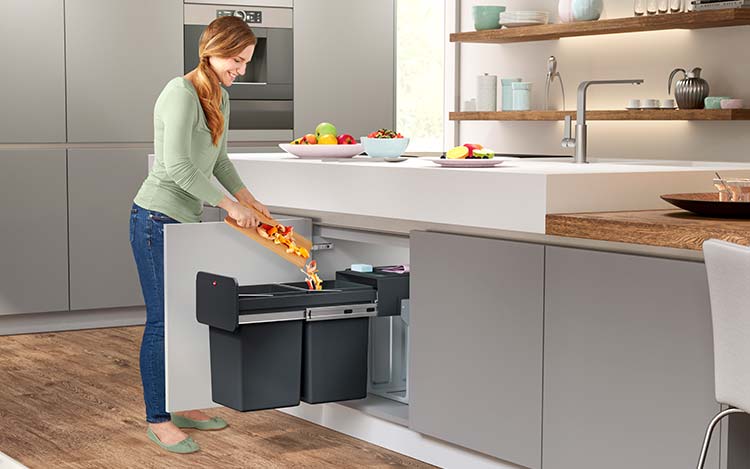 Kitchen as the center of recycling at home
HAILO's solid waste management systems, which include waste haulers, waste containers, and storage bins help you to sort garbage until recycling collection day. While the kitchen is naturally one of the epicenters of your home, you do not need to store your recycle containers there. HAILO's bins are created with galvanized powder-coated sheet steel, and are a great fit for your garage or even outdoors. No more need for cardboard, paint cans, motor oil bottles, DIY garbage, and other recyclable plastic containers to be collected in a pile in the hallway, or for food scraps waiting to be recycled or composted to stink up the environment for long periods - waste collection containers are fully sealable and large enough to act as an 18.5-gallon waste compartment.
HAILO's recyclable waste collectors' special features
Our indoor and outdoor recycling bins are attractive drop-off options, not only because of their uncompromising functionality but also thanks to their attractive and modern design. We've made it our business to combine style with functionality. Whether it's a plastic or stainless steel recycle bin - our recycling stations always fit harmoniously into their respective residential and office environments.
High-quality material
Our recycling bins are made of high-quality material. Most of the HAILO containers are made of technical plastic (ABS). We make no compromises when it comes to quality, which is why the container, the flap, and the front are all made of impact-resistant and durable material. The HAILO recycling bins are made of powder-coated, galvanized sheet steel to complement their clean, modern design. The plastic, multi-gallon capacity inner bins are also easy to clean.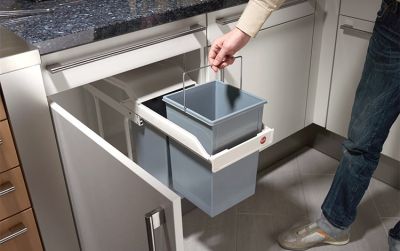 Double storage bin elements
The plastic and steel recycling bins can be attached to the soft-close slides very easily. This way all waste separators are stationary in one place, and there is no longer any obstacle to accurate waste separation, sorting, and storage. Organizers can use the multi-gallon bags or the built-in receptacles to selectively store solid waste, organics, and even smaller yard waste until the recycle removal.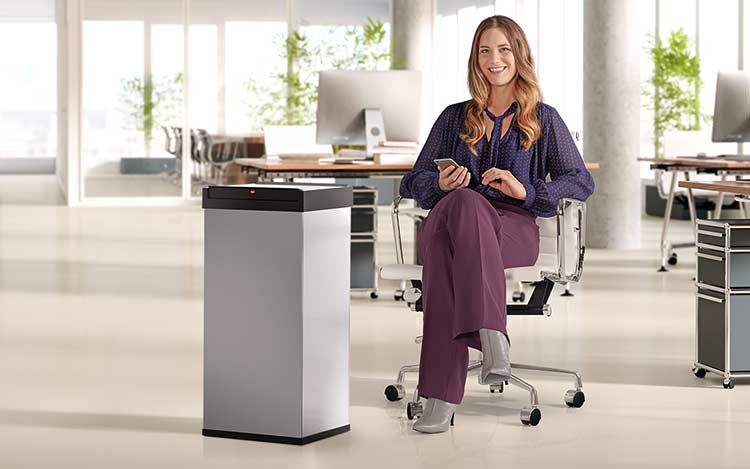 Capacity
Since company recycling stations are used by many people, a large amount of waste accumulates in the bins. It's imperative that waste collectors (especially to recycle or compost) need to have larger gallon capacities to accommodate sorting needs. HAILO offers large-volume recyclable waste compartments with storage capacities ranging from 18.5 to 31.7 gallons.